What is Diabetic Retinopathy
There are two kinds of diabetic retinopathy.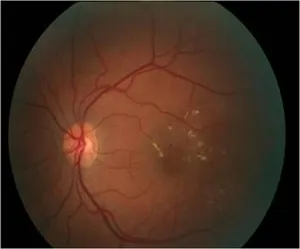 Normal blood vessels are watertight and do not leak. In diabetes, the retinal blood vessels can become damaged and develop tiny leaks. This is called
nonproliferative diabetic retinopathy.
Blood and fluid seep from the leaks in the damaged retina. This causes swelling of the retina. When leakage occurs and causes swelling in the central part of the retina which is known as the macula, it is called macular edema and vision will be reduced or blurred. Leakage elsewhere in the retina will usually have no effect on vision.
Another problem with the retinal blood vessels in diabetes is that they can become obstructed. The retinal tissue, which depends on those vessels for nutrition, will no longer work properly. The areas of retina in which the blood vessels have become obstructed then foster the growth and proliferation of abnormal new blood vessels, called
neovascularization.
Neovascularization can cause bleeding and scar tissue that may result in severe loss of vision or blindness. The form of diabetic retinopathy in which neovascularization develops or
proliferates
is called
proliferative diabetic retinopathy.
Both of these forms of diabetic retinopathy can occur together in an eye.
Pre-Proliferative Diabetic Retinopathy